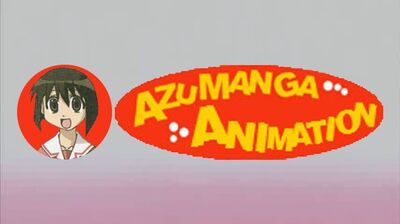 Welcome to the Azumanga Animation Wiki
Edit
It should be held up by Hiroshi Nishikiori (the director of Azumanga Daioh) and would be the main producer of the anime movies and shows. Along with Kenichiro Watanabe as the main director and Takao Kato as co-director. Eiko Morikawa (who is today the SFX editor for Kyoto Animation) should be the main sound effects editor. And other creators who worked on Azumanga Daioh and To Love-Ru previously. The company should focus on mostly making anime movies and TV series. All movies and shows should be made in the same animation Azumanga Daioh had and should all be made in academy ratio (fullscreen) then crop to widescreen so they can avoid showing them in pan-and-scan on TV in Japan. I do want it to happen for reals so bad.
Kaorin should be the company's mascot appearing on its production logo. The logo would only be shown at the start of an anime show before the intro starts and at the end of each anime movie where Kaorin would push the logo to the screen then leans on it. But then Chiyo Chan fly's in and joins Kaorin on the logo (which only appears on the anime movies).
Community content is available under
CC-BY-SA
unless otherwise noted.